A Year of Change
Summary
As Village Church continues to reach people for Jesus as effectively as possible, we are closely watching post-pandemic trends and behaviours. We believe it is crucial to get ahead of these new trends by shifting our multi-site focus towards live site experiences on Sundays. This strategic shift better stewards our resources and paves the way for increased growth and connection based on the cultural changes we are seeing.
A Year of Change
2022 has proven to be incredibly eventful for Village Church. This year we have seen Founding Pastor Mark Clark step down and move to Sacramento to serve at Bayside Church. We have continued the reopening of our physical locations after the pandemic. We have seen people gather for the first time in Toronto, Winnipeg, and Vancouver. We have also shifted our church leadership model to a two-Senior Pastor approach and completed the search process for one of those two Senior Pastors, Jeremy Johnson, recently affirmed as Senior Pastor of Ministries & Staff. We are actively interviewing candidates for the second Senior Pastor position and are committed to following the right process to discern the perfect second leader God would have for us.
Our preaching team has stepped up and consistently delivers engaging and biblical sermons that have continued to challenge and drive us all toward Jesus. Because of their gifting, we are able to take our time in finding the right Senior Pastor of Preaching & Advancement who will lead that team. After we find the second Senior Pastor, we will continue to have a preaching team so that diverse perspectives and voices will challenge us. We know that God is still moving in big ways, as we have seen baptisms of people professing their faith in Jesus in amazing numbers across the country. These are incredibly exciting times for Village Church!
The Changing Reality
Before the pandemic, Village Church set out a bold strategy of site expansion. A huge focus of this strategy was based on the cinema site model and planting such sites throughout the Lower Mainland in BC and across Canada in key cities. The model relies on a high percentage of serving to take place among the people who attended, making the experience outstanding. It also requires enough people, mostly unchurched, to embrace a service that is digital.
The post-pandemic world has caused many shifts, massively affecting the church and that cinema-focused strategy. All of the factors just mentioned that contribute to the viability of cinema sites have been significantly impacted. We are seeing trends across the church world where people are simply not attending as regularly as they used to. They still attend a service, identify as part of the church, and are involved in the church, but their attendance in person on a Sunday is less frequent. The consequence of this shift is less critical mass from week to week. Churches are also experiencing lower appetites to serve or to serve as regularly as before the pandemic. Finally, screen fatigue seems to be a factor for some and may contribute to how people choose to engage at certain sites.
These factors have all combined to create stress on our cinema sites, and we must pay attention to the reality of our culture's behaviour to stay effective. It is important to make a distinction at this point: we have not suffered attendance losses in 2022, in fact, we have seen just the opposite. More people are attending each Sunday than before Pastor Mark resigned, and the number of people who are actively engaged at Village Church overall is the highest it's ever been! But the way people choose to engage has created a different landscape than before the pandemic. Village Church has always tried to innovate and ensure that we are astutely plugged into culture and cultural factors to find ways to have maximum impact. It would be foolish for us to observe these changing trends and not pivot to more effective strategies to get out in front of these developments.
Vancouver, Toronto & the Live Site Option
Right now, this pivot looks like focusing more intentionally on pursuing live site options for growth and engagement. One of the current strengths of Village Church is that we offer engaging live church Sunday experiences, so we want to leverage that. We are currently planting Village Church Vancouver as a live location, meaning live music and a mix of live and video preaching. We are pivoting our approach in the Toronto area by following this same thinking. Our goal is to work towards launching a live location in Toronto and using the current GTA West congregation as the foundation. The timeline for the GTA shift will become clearer as we begin the process.
Merging Coquitlam & Abbotsford with Langley North
For the Lower Mainland locations in BC, this shift means consolidating our three cinema sites along Highway 1 into one location at Langley North to provide a better cinema church experience. Currently, these three sites sit about 15 minutes from each other. Rather than spreading out our resources and offering three cinema church experiences, we feel it makes sense to pool resources and create a more dynamic and vibrant experience where the same people aren't over-taxed with serving. Currently, the pressure of what the cinema format requires means that many volunteers serve every week and do not regularly participate in the service.
Specifically, these three sites together have seen over 1100 people engaged in the past six months (i.e. in a group, served, given, checked in a child, attended an event, etc.). This is an incredible reality and testament to the work our teams and members have been doing in each region! However, the reality on any given Sunday sees approximately 360 people on average attend total across those sites.
A combined, consolidated location provides the critical mass necessary to comfortably support the cinema gathering format. In fact, our Coquitlam and Langley North cinema locations already collaborate on ministry initiatives as a way to pool people and resources. This is a win both economically and experientially.
But more than this, we also believe that the time is right to begin looking for a live location for this consolidated cinema site. It will take some time to find the right venue that will work well. In the meantime, this cinema location will be able to provide great Sunday experiences, better ministry, and a more sustainable serving model. We will meet right in the middle of our three cinema sites along Hwy 1 at the current Langley North location as we get to work on exploring the idea of a live venue.
If you currently attend Coquitlam, you can:
A transfer form has been set up for Coquitlam attendees so we can help make the transition as seamless as possible. Let us know where you'll attend by clicking the button below.
For those who are a part of our Abbotsford congregation, we'd love to see you either:
A transfer form has been set up for Abbotsford attendees so we can help make the transition as seamless as possible. Let us know where you'll attend by clicking the button below.
By merging the three cinema sites into one, plus adding Vancouver, you can see below how the BC lower mainland is now more fully covered within a 25-minute drive with four strategically placed locations.
Village Church BC Sites – 25-minute driving distance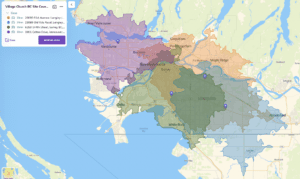 There are many ways to continue to be on mission as a part of the community of Village Church, and we hope that you will embrace this forward-thinking shift with us.
Calgary & Winnipeg
Some might wonder what is in store for our Calgary cinema location and our new Winnipeg plant. Pastor Michael Fletcher and his team have done an excellent job in seeing increased engagement at the Calgary location. We have a substantial history pre-pandemic in the city that has helped us deal with some of the shifts post-pandemic, so there is no plan to change anything there at this time.
In Winnipeg, Pastor Kevin and his team have started weekly Sunday gatherings in addition to the mid-week ministry they have already been doing. We will continue to resource them as that congregation grows and develops and will only move into a cinema location when they are ready to take that on. We will let that plant grow in the format it is currently gathering in and make adjustments when, God willing, they outgrow the format.
The Mission Stays the Same
Of course, all of this is about the mission of seeing people transformed into fully devoted followers of Jesus – through better and wiser impact. It is better stewardship of our resources, it better reflects our current world, provides better location experiences, and will put us on a better path for growth! This is indeed an exciting time for Village Church as we innovate and pivot ourselves for maximum kingdom impact.
FAQs
Are we not doing cinema sites anymore?
We still believe that cinema sites work. For instance, our Calgary site is growing and making an impact. Our Langley North site will continue to grow as a cinema site. This shift is more about emphasis, shifting from leaning hard on the cinema model to focusing also on live site options as well. It's about positioning ourselves for the best opportunity for growth and engagement in the changing social realities city by city.
Has the church seen a decline in attendance since Pastor Mark left? 
No, in fact, we have more people attending in person on Sundays now than we have at any point since returning to gatherings in July 2021! We have also seen growth in the number of people who are actively engaging as the church outside of Sunday gatherings. This has been a major blessing and encouragement – a reflection of how strong the mission of Village Church is embedded in our people.
What do I need to do to transfer over to a new site?
If you are part of Coquitlam or Abbotsford, there is a form to initiate the process. It is not complicated. It is simply about connecting you with the area and people you are used to serving or participating with already. If you were not yet engaged at the site, no problem. The form can help start the process to find the best place for you to serve and maximize the gifts you bring.
If you are part of Village Church Coquitlam – click here
If you are part of Village Church Abbotsford – click here
Do I have to change how I give?
No. There is no need to change anything. Your giving follows you wherever you attend.
Do live sites cost more?
Yes. One of the reasons the cinema site continues to be one of our planting options is because, in the right context, it can be started and staffed faster at a lesser cost. Sites that incorporate live music require more capital equipment, a more expensive venue, and usually one or two additional staff positions.
Can I still meet in the Community Group I am a part of?
Absolutely. Your Community Group will transfer over and sit under the new location where the majority of your group members attend.
Can you help me in finding and connect to a new location?
Yes. Email or talk to the Lead Pastor or any of the staff at the location you are moving to.
If you are already part of a serving team, click the appropriate button referenced above.
You can sign up for serving at any location here.
You can join a Community Group here.
Are you able to help me find another church to be a part of near me that isn't a Village Church?
Yes, we would be happy to recommend or guide you to a church in your neighbourhood if one of the Village Church sites is no longer convenient. Talk to the Lead Pastor at your site.