Young Adults
We exist to create an environment for young adults to move deeper with Jesus and therefore change the way they relate to culture and the world in the scenery of everyday life.
If you are between the ages of 18-35 and looking to connect with others over shared experiences, signup and you will be informed of our next Young Adults event! We meet on the last Sunday of every month — time and place vary depending on the event so sign up to be notified.
The best way to stay up to date with the Langley North Young Adults community is by subscribing to our texting list! Simply text "Young Adults" to (855)-888-5353 and we'll keep you in the loop on all upcoming events and initiatives.
Upcoming Events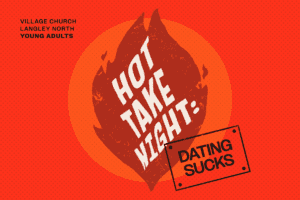 Hot Take Night: Dating Sucks
Dating as a young adult can suck – aggressively so. We want it to suck a little less, and maybe even be great. This first Hot Take Night of the series is all about hosting conversations that provide real value to your life whether you've never been on a date, have been dating for a while, or are married and looking to help your friends.
We'll have free drinks, a giveaway, a "Ted Talk" from a professional relationship coach and time to ask him and a registered psychologist your questions on dating and relationships. We want you to find a life that is good and we know these incredible people can help.
Details:
When: Sunday, May 28
Time: 7:00pm – 9:30pm
Food? Drinks are on us, but the menu is open. Thank Kaffi by eating lots!
This is definitely a night you (and your friends!) won't want to miss, so sign up, submit questions and mark this in your calendars.
Community Groups
Community Groups are the life of the church. It's family, where we learn about Jesus, meet God, share life together, experience transformation, laugh, and engage in Jesus' mission to the world.
Visit our Community Groups to find one today!