Surrey Sr. Youth
Sr. Youth is for students in grades 9-12. We have regular Youth small group nights on Tuesdays! We hope you can join us!
Village Youth exists to see students transformed into fully devoted followers of Jesus. At Sr. Youth you will have the opportunity to meet new friends, connect with leaders, play fun games, hear relevant teaching, have meaningful discussions, and create lifelong memories.
To receive more information about Village youth and if you would like to get connected with us during this time, please fill out the FORM and we will gladly get you involved with our Youth community.
Fall at Village Youth
This Fall at Village Youth, we will be running a rotation of Small Group Nights, Youth Nights, and Youth Events. These three types of gatherings will each serve a unique role in our pursuit to see students transformed into fully devoted followers of Jesus.
Small Group Nights:
Small Groups will meet in various locations around the city in several different host homes according to grade and gender. Small Group Nights are an excellent way for students to gather together, build friendships, have fun experiences, discuss life and faith, and be cared for by their Small Group Leaders.
Youth Nights:
Youth Nights are meant to create a space where all of our students and their friends can interact with their faith through worship, relevant sermons, and meaningful Small Group discussions.
Youth Events:
At Village Youth, we value creating memorable experiences. These events are meant to be exciting and interactive experiences that our regular students would feel comfortable inviting their friends.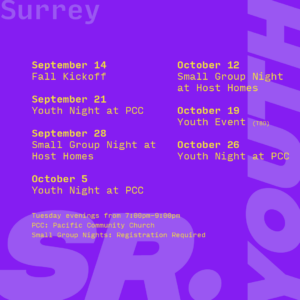 Connect with us!
You can also connect with us on Youtube and Instagram (@vysurrey) throughout the week!
If you have any questions about our Youth programs, contact Justin Atwood.
Serve
If you are interested in jumping in on a great opportunity to serve in our youth ministries, we would love to connect with you. Click the button below to get started!