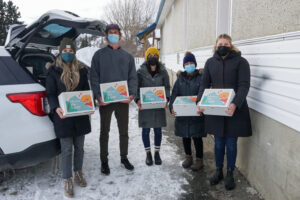 At the beginning of the pandemic, we wanted to reach out to churches in remote areas to see how they were doing and how we could support them in reaching their communities, which led us to connect with Mountainview Church in Whitehorse, Yukon.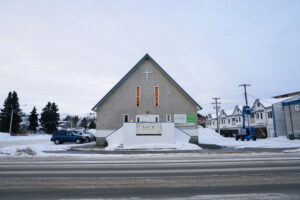 Whitehorse is a small city that hosts approximately 75% of Yukon's population. It's also filled with lots of transient workers. If one is in town for only a short time, committing to serving in the church and community can be challenging. Add on to that the restrictions to in-person gatherings that we all experienced due to the COVID-19 pandemic. Despite these challenges, the church continues to contribute to the community. The religious community in Yukon is quite diverse, along with a prominent atheist and agnostic population. It's considered one of the most secular regions in Canada.
For this reason, we wanted to help support Mountainview Church in the work they are already doing to love their community and reach their neighbour.
The Project
Since we already had connections to Mountainview Church, we discussed how we could partner together to bring some light and hope to people particularly affected by the dark and cold time of year. A time when depression, sadness and hopelessness are so prevalent, especially through the pandemic when people are even more isolated.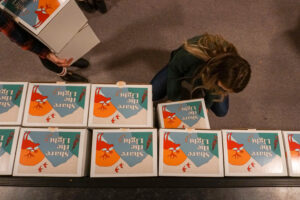 Boxes of Light are a small, tangible way to reach out to people to tell them that we care about them and there is light in the darkness. We also used it to connect people to all the resources available for "help" in the Yukon.
What do the boxes include?
Each box includes:
-a custom adult colouring booklet
-pencil crayons
-a custom journal
-earbuds
-a beanie with a light on it
-an assortment of snacks
-a reading light
-a mason jar cookie mix for recipients to bake themselves
-a small Bible
-hand warmers
-baked goods and coffee from local businesses
-tips on how to bring some light to their day
-help hotlines card: the helplines and services available to people in the Yukon who need support in a variety of areas
This year, we were able to sponsor, pack, and deliver 250 Boxes of Light. We also sent a small team from Village Church to work alongside volunteers at Mountainview Church. It was a special week for the team who experienced the beauty of Northern hospitality! By being there in person, we heard from some of the agencies about what the boxes mean for the people who receive them. Immense gratitude. People were blown away that they had been chosen to be gifted a box with activities like baking cookies.
One woman delivering the boxes to people in addiction recovery shared that there are limited long-term support services in the North for people struggling with addiction. Fostering community, when people are back in their home community after attending treatment out-of-territory, is crucial for staying sober. She said when she did deliveries; faces lit up. While it's not everything, the boxes created new connecting points for community building. We all need community, and we are thankful to see these boxes be a bridge for connection.
Thank you for supporting Village Church because this is the type of work we get to be a part of throughout the year!